Just because we offer floral design services doesn't mean we can't appreciate and acknowledge the work of others. Portland is full of talented and inspiring floral designers and today we are featuring one of them – Elizabeth Rusnac of Fleur:ology.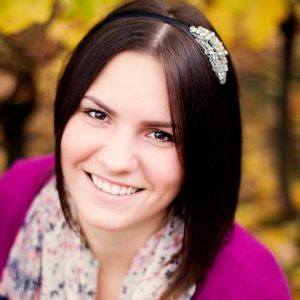 What inspires you as a designer?
I love it when a bride comes to me really excited about her wedding colors, theme or style. It totally rubs off on me and gets me really excited to make her vision come to life!
The best part of your job – what is it?
My favorite part of my job is the day of the wedding. For the most party, by this point, most of my work is done, and it's time to deliver and set up everything. I get to deliver flowers to the bride who is all dressed up and ready for her big day. I get to transform spaces from an empty banquet hall into a romantic setting for wedding reception, and make the brides vision come to reality! It's really fun and it's what my job is all about!
What should a prospective client look for in a floral designer?
I think that the most important thing is to "click" with your designer from the first meeting. You need to feel comfortable that the professional you are about to hire will be capable of taking your ideas and creating the wedding of your dreams. You should also be confident in your floral design and their portfolio! If you don't see much in their portfolio that speaks of the style you're trying to capture for your wedding, then they probably aren't the right florist for you.
How did you get started?
I first started out as somewhat of an event designer/decorator for smaller events [baby showers, bridal showers, engagement parties]. When designing a 30th birthday bash for a client, I needed to improvise and create some floral centerpieces, and fell so in love with those simple centerpieces and the way they transformed the look of the whole room, that I knew I found my passion. Ever since, I've taken a few classes with the industries best, read all the design books I could get my hands on, and have been mentored by some really amazing designers who inspire me each day to reach for my dreams!
When meeting with a prospective client, should they be ready with photos or ideas?
I like to get most of my brides' inspiration photos via e-mail before we ever meet. This way, when we finally meet and sit down to talk, I already have a really good idea of the look she is going for and we can really sit and talk details. And don't over-do it either! I don't need to see EVERY photo of pink bouquets that you think are pretty… I want to see what really speaks to you and what you can't live without! But if you don't have many ideas, and are open to be given a little direction – that's what I'm here for! I would love to help guide you in selecting the perfect color palette, and choosing in season blooms that will compliment your style perfectly!
Tell us something about yourself.
I guess since I'm in this industry that is driven by LOVE, I'd love to share how I met my amazing husband, Sam! We had mutual friends through our teenage years, but never really spoke until we were both part of a soccer team that played in tournaments to raise money for orphanages in Romania [we're both born-in-America Romanians, by the way!] Sam is just 3 years older than me, but he was the team coach, and I was the the roughest defender on the field! We quickly became close friends, and years later decided we couldn't live without each other! We've been married for 7 years and have 2 beautiful babies!
photos courtesy: Deyla Huss, Diana Marie, Falcusan, Kari Renee and Yasmin Khajari Photography
Categories: vendor spotlight | Tags: wedding flowers