For those that know us, know that we are a huge proponent of having your wedding documented not only just with photos but video as well.  Moetic Films is another great example of why video should be budgeted into every once-in-a-lifetime event.

What is Moetic?
Moetic is a word we just made up. Sort of a combination of of the words 'movement' and 'poetic.'
What was the inspiration behind the name?
Our goal with each of our films is to tell a story that moves people to some sort of emotion. So when we started throwing out words that defined us, we ended up just taking a couple that we liked and meshing them together.
Do you have a signature style?
We would say we're of the more modern style. Breaking it down into 2 categories, the older style, which I think (unfortunately) a lot of people still think about when they think about wedding videos, is more reactionary – pointing the camera at the action and reacting to it. Not much in the way of story-telling.
Our style, and the style which a lot of the top cinematographers in the industry are creating, is more story-telling-centric.
We aim to anticipate and capture the action in a highly-cinematic way without giving our couple a lot of direction. Instead of reacting to the action, we anticipate it in order to capture multiple, unique angles and shots throughout the day. The couple looks natural and the footage looks like a movie.
The key for us in all of this is really getting to know each of our couples very well. While every wedding has the same essential script, each couples' personality is different and that's what makes each of our films so unique and intriguing.
Why Moetic?
We all have a passion for using film as a means to telling stories and we love getting to know each of our couples so that each film is unique to them.
This means all four of us putting a lot of energy and effort into getting to know the couples we work with and allowing them to get to know us.  We love showing up at their wedding feeling like we are friends, rather than a vendor they hired. This makes it so they can truly be themselves on their most important day, not feeling nervous around us or the camera.
If you dare to be so bold – who would you hire to capture your personal event?There are so many great wedding cinematographers out there, so this is tough.
We would look for someone who was willing to invest in us.  Sure there were a lot of details in each of our weddings but we'd want to find someone who was willing to get to know us, so they could capture what was unique to us and not just the details of our day.  I think we'd like to work with someone we could see ourselves hanging out with, someone we could become friends with.
Tell us an interesting fact.
Moetic is a team of Ryan Welch, Ryan Rossman, Susan Welch and Brittany Rossman. Yep, 2 Ryan's. You either need to be named Ryan or married to one to work for us.


Last summer we did back-to-back Same Day Edits in different states.  After a Friday wedding in San Francisco, we charged our batteries, cleared card, slept for 2 hours, then boarded a plane to Seattle, and went right into another one! We like working under pressure!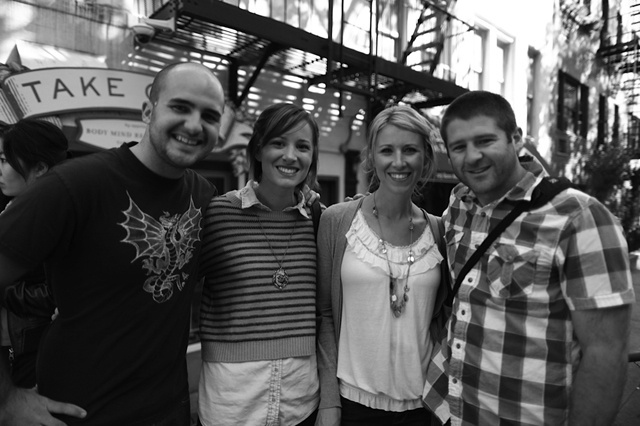 The start of the new year has been a busy one for us with lots of overdue administrative work.  We finally pushed our web re-design project forward and its now complete.  YEAH!
During the re-design we were in temporary blackout mode so we have lots to catch up on.   In brief, a couple weeks ago we had the opportunity to participate in Skamania Lodge's Bridal Open House.  Here's a snapshot of our tablescape design featuring our floral design and blossom linen in black and white with white iridescent napkins.  White chivari chairs and glass beaded rim chargers are from Peter Corvallis Productions.
Photo courtesy of Sikora Photography - thanks Tom!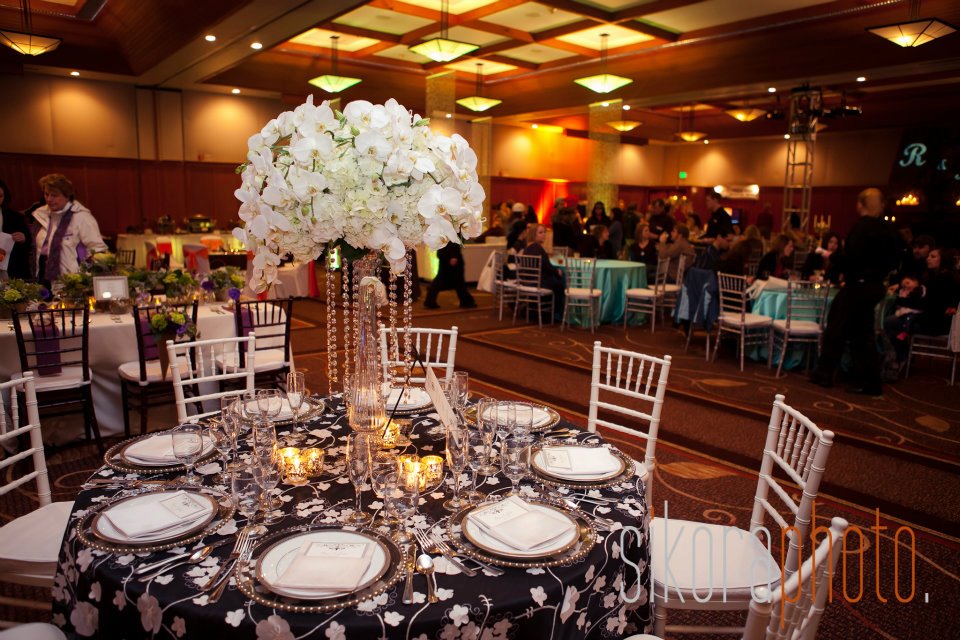 Tis the season of bridal shows and venue open houses. There are so many this time of the year – 22 between January and April alone! With so many its hard to decide, right?
Our staff will be at two upcoming venue bridal open houses (details below). Both events are open to the public at no cost. Come on by, check it out and say hello.
Skamania Lodge
Sunday, January 15 between Noon-4pm
RSVP: Michele Starry @ (800) 221-7117
The Oregon Golf Club
Sunday, February 12 between 11am-1pm and 2pm-4pm
RSVP: Nicole Bergin @ (503) 650-6900